Adidas Canvas Bag Schwarz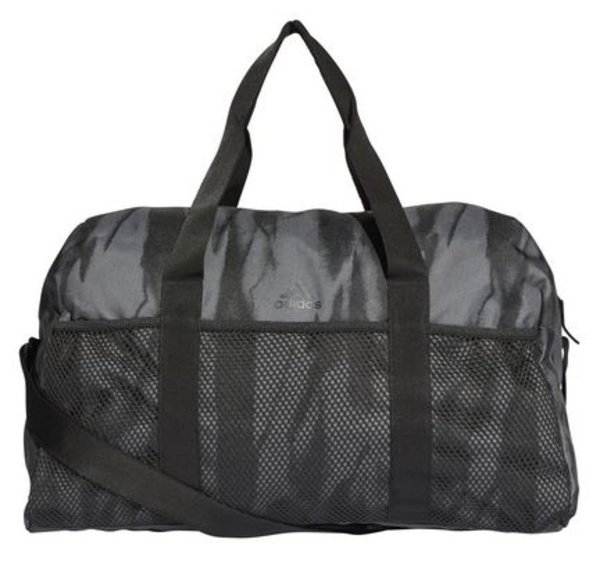 in Stock
(Processing time: 1-3 days)
Diese Trainingstasche ist ein verlässlicher Begleiter für tägliche
Einheiten im Gym. Die Tasche aus robustem Polyester hat ein geräumiges
Hauptfach und zahlreiche Fächer, die Ordnung in deine Ausrüstung bringen
und separaten Stauraum für Schuhe bieten. Mit zwei Tragegriffen und
einem verstellbaren Schulterriemen ist sie praktisch und bequem zu
tragen. Eine Allover-Grafik sorgt außerdem für einen stylishen
Hingucker.Hauptfach mit ReißverschlussEinschubtaschen aus Mesh auf der Vorderseite; verdeckte Reißverschlusstasche auf der RückseiteIntegriertes Schuhfach; unterteilter InnenraumZwei Tragegriffe obenLängenverstellbarer Schulterriemen
Do you have any questions on this item?
Diese Trainingstasche ist ein verlässlicher Begleiter für tägliche
Einheiten im Gym. Die Tasche aus robustem Polyester hat ein geräumiges
Hauptfach und zahlreiche Fächer, die Ordnung in deine Ausrüstung bringen
und separaten Stauraum für Schuhe bieten. Mit zwei Tragegriffen und
einem verstellbaren Schulterriemen ist sie praktisch und bequem zu
tragen. Eine Allover-Grafik sorgt außerdem für einen stylishen
Hingucker.Hauptfach mit ReißverschlussEinschubtaschen aus Mesh auf der Vorderseite; verdeckte Reißverschlusstasche auf der RückseiteIntegriertes Schuhfach; unterteilter InnenraumZwei Tragegriffe obenLängenverstellbarer Schulterriemen
Do you have any questions on this item?