Lunchbox Paddington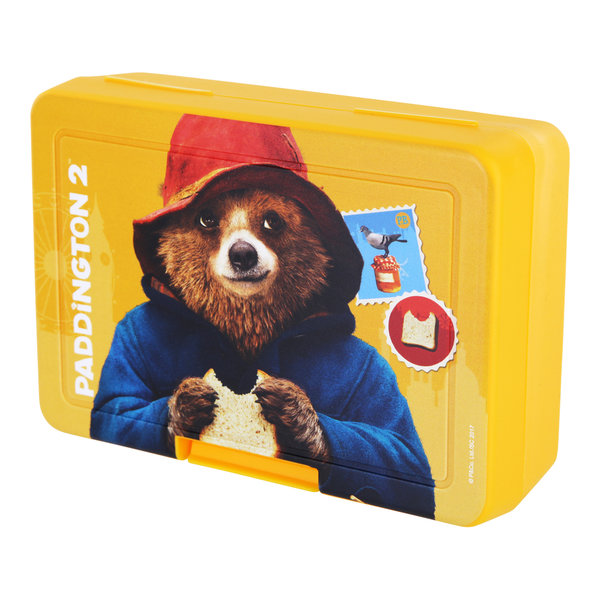 in Stock
(Processing time: 1-3 days)
Paddington has now happily settled with the Brown family. As he is looking for the perfect present for his Aunt Lucy's 100th birthday, he finds a unique and very ancient pop-up book. As he performs several odd jobs to afford the book, a real turmoil begins as the book is stolen. Now, Paddington and the Browns have to catch the thief. This is how a family adventure for young and old alike begins.
The Paddington 2 lunchbox is a real eye-catcher, but also offers a lot of room for your goods. You still have no lunchbox and need one for the school/University? Then grab this detailed designed lunchbox now, to keep up with the times and to bring some colours to your everyday life!
Official license product
Size: approx. 16 x 11.5 x 5 cm
Weight: approx 70 g.
Material: Imprinted plastic
Closure: the box is resealable
Care: Diswasher safe
Do you have any questions on this item?
Paddington has now happily settled with the Brown family. As he is looking for the perfect present for his Aunt Lucy's 100th birthday, he finds a unique and very ancient pop-up book. As he performs several odd jobs to afford the book, a real turmoil begins as the book is stolen. Now, Paddington and the Browns have to catch the thief. This is how a family adventure for young and old alike begins.
The Paddington 2 lunchbox is a real eye-catcher, but also offers a lot of room for your goods. You still have no lunchbox and need one for the school/University? Then grab this detailed designed lunchbox now, to keep up with the times and to bring some colours to your everyday life!
Official license product
Size: approx. 16 x 11.5 x 5 cm
Weight: approx 70 g.
Material: Imprinted plastic
Closure: the box is resealable
Care: Diswasher safe
Do you have any questions on this item?