Set Long Necklace Vaporoso Darlin's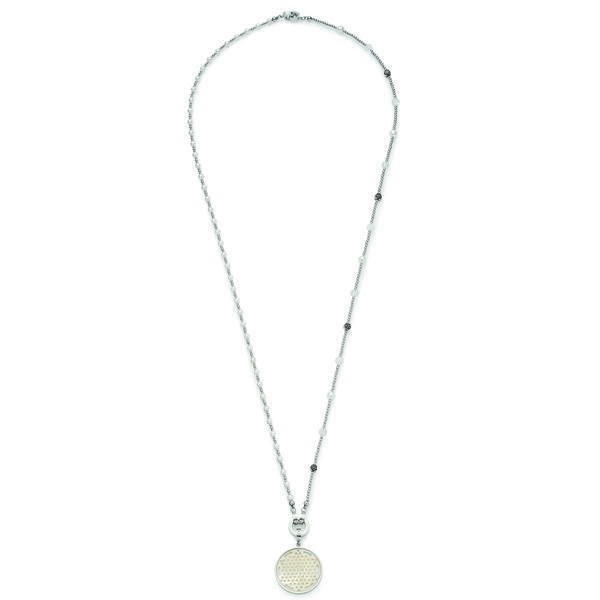 in Stock
(Processing time: 1-3 days)
With this long necklace, there is always a new discovery in sight. Besides the refined union of two small chains, the different arrangement of tiny stainless steel pearls, imitation pearls and cut glass pearls offers the observer an exciting design. And the icing on the cake: The stainless steel pendant with life flower motif made out of genuine mother-of-pearl. When you buy this necklace, you also make a gift to children in need. LEONARDO donates a fixed amount of the profits to a project of the foundation "Regine Sixt Kinderhilfe Stiftung e.V.".

• Stainless steel
• Glass pearls, imitation pearl, mother-of-pearl
• Clip & Mix


Size (W/H/D): 900/40/6mm

Do you have any questions on this item?
With this long necklace, there is always a new discovery in sight. Besides the refined union of two small chains, the different arrangement of tiny stainless steel pearls, imitation pearls and cut glass pearls offers the observer an exciting design. And the icing on the cake: The stainless steel pendant with life flower motif made out of genuine mother-of-pearl. When you buy this necklace, you also make a gift to children in need. LEONARDO donates a fixed amount of the profits to a project of the foundation "Regine Sixt Kinderhilfe Stiftung e.V.".

• Stainless steel
• Glass pearls, imitation pearl, mother-of-pearl
• Clip & Mix


Size (W/H/D): 900/40/6mm

Do you have any questions on this item?