Bilderbuch Snorri und der versunkene Schatz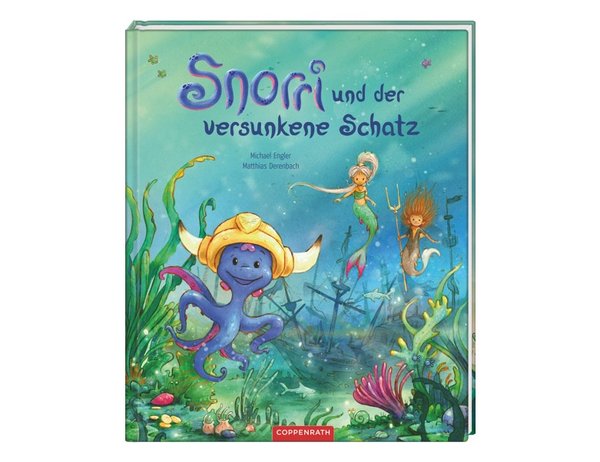 Was für ein langweiliger Tag! Selbst in Aquamaris, der sagenumwobenen Stadt auf dem Meeresgrund, ist heute nicht viel los. Doch dann erfahren Snorri, der sechsarmige Oktopus, und seine Freundin, das Meermädchen Aquina, von einem echten Goldschatz. Im Wrack der Schwarzen Krähe soll er versteckt sein. Snorri weiß genau, wo das alte Piratenschiff zu finden ist: auf dem Schiffsfriedhof. Und der ist ziemlich gefährlich! Zum Glück bietet Aquarian ihnen seine Hilfe an. Aber ist der kleine Meerjunge wirklich ihr Freund? Oder hat er es nur auf den Schatz abgesehen …?

Eine wunderbar spannende Bilderbuchgeschichte über Fairness und Freundschaft, ideal für Kinder ab 3 Jahren.



Book available in German and French
Do you have any questions on this item?
Was für ein langweiliger Tag! Selbst in Aquamaris, der sagenumwobenen Stadt auf dem Meeresgrund, ist heute nicht viel los. Doch dann erfahren Snorri, der sechsarmige Oktopus, und seine Freundin, das Meermädchen Aquina, von einem echten Goldschatz. Im Wrack der Schwarzen Krähe soll er versteckt sein. Snorri weiß genau, wo das alte Piratenschiff zu finden ist: auf dem Schiffsfriedhof. Und der ist ziemlich gefährlich! Zum Glück bietet Aquarian ihnen seine Hilfe an. Aber ist der kleine Meerjunge wirklich ihr Freund? Oder hat er es nur auf den Schatz abgesehen …?

Eine wunderbar spannende Bilderbuchgeschichte über Fairness und Freundschaft, ideal für Kinder ab 3 Jahren.



Book available in German and French
Do you have any questions on this item?